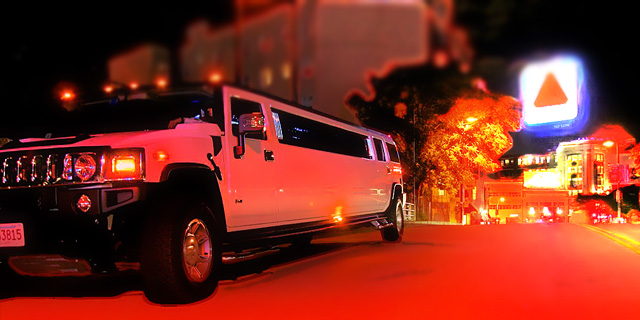 Are you visiting Boston with a larger group of people? The Hummerzine will get your group anywhere you need to go. We really believe that the more people there are in your group the merrier, and we try to accommodate your needs.  The Boston Hummerzine 14, 16 or 20 passenger superstretch limousine rental come fully equipped with:
One-7" LCD TV
Two-15" LCD TV's
Touch Screen Control/TV
Premium AM/FM/CD/XM Radio
DVD with TV Tuner
Surround Sound
Full Length Stainless Steel Mirrored Ceiling with Fiber Optics
Fiber optic Bar (6-Color)
Rosewood Stained Bar
1-Champagne Bucket
2-Ice Buckets with Drains
Full Length Simulated Leather J-Seat
Fiber Optics in the Divider
Power Solid Divider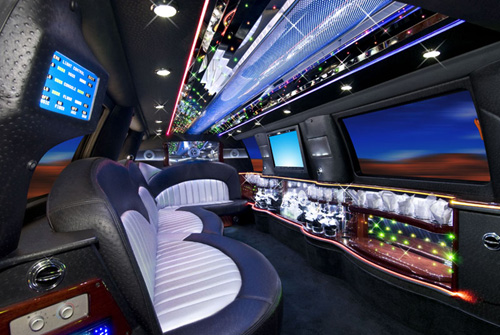 An impressive bar inside the limo will keep you and your friends' thirst at bay. This is the best vehicle for transportation to the hottest spots in Boston Metro area, events or more personal events like weddings. Your comfort will be second to none in our Boston Hummerzine, and with all the amenities listed above, so will your fun and amusement be second to none. Imagine seeing the spectacular sights of Boston while riding smoothly to your destination. You are in charge of your experience –tailor it to be the way you like it. Moving cross country
Book Today!
Tags: Boston H2 Limousine, boston hummer limo, boston hummer limousine, hummer limos, Hummer Limousine Specifications
Warning: Use of undefined constant � - assumed '�' (this will throw an Error in a future version of PHP) in /srv/users/bostonhummerzine/apps/bostonhummerzine/public/wp-content/themes/hummerzine/single.php on line 12